About Dr. Fontaine

Dr. Jacques Fontaine is board certified by the American Board of Surgery and the American Board of Thoracic Surgery. He currently practices Thoracic and GI Oncology at H. Lee Moffitt Cancer Center in Tampa, Florida. He was rated the top thoracic disease doctor in the Tampa Bay Area in 2021, 2019 and 2018 by Tampa Magazine.
Make an Appointment
Call Now
Dr. Jacques Fontaine is among the nation's top thoracic surgeons and specialists. He specializes in robotic-assisted thoracic surgery at Moffitt Cancer Center in Tampa, Florida.
Fontaine's Ivy League education and training in thoracic surgery prepared him to work with innovative technologies and therapies at Moffitt, which is among the largest and busiest cancer centers in the U.S.
Why Choose Dr. Fontaine for Thoracic Surgery?
Fontaine attended McGill University in Montreal, home of Canada's premier medical school. He then trained in general surgery at Boston University and completed his fellowship in thoracic surgery at Harvard University. Fontaine was chief resident of thoracic surgery at Brigham and Women's Hospital in Boston, working under renowned thoracic surgeon Dr. David Sugarbaker.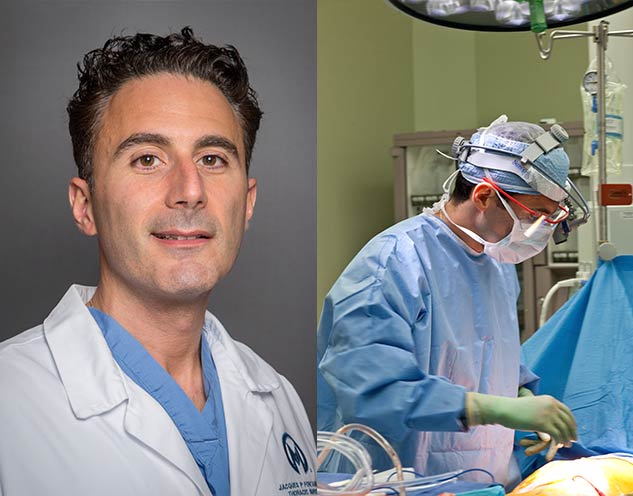 After graduating from Harvard, Fontaine returned to Canada and spent a year serving as an all-purpose surgeon in the small, isolated fishing town of Burin, Newfoundland, working in a hospital with very limited resources. He handled major and simple surgeries and everything in between, learning to adapt and improvise at every turn.
Before coming to Moffitt, Fontaine worked at the Medical School of Brown University in Providence, Rhode Island, where he developed a thoracic surgery program at one of the teaching hospitals. He is fluent in English, French, Spanish and Arabic, which allows him to communicate clearly with patients from multicultural backgrounds.
At Moffitt Cancer Center, Fontaine collaborates with a multidisciplinary team of experts specializing in a variety of fields, including oncology, radiation therapy and surgery. Various world experts come together under one roof to offer the best personalized treatment for cancer patients.
"Collaboration is the key to treatment of lung cancer, esophageal cancer or mesothelioma," Fontaine said.
Top-Rated Doctor
Fontaine is among the top-rated thoracic specialists in the Tampa Bay area and all of Florida. He has appeared in several prestigious publications that annually rank the region's best doctors; in 2021, 2019 and 2018 he was rated the No. 1 thoracic disease doctor in Tampa.
Patients travel from cities in and around Hillsborough County and the Tampa Bay area to access his expert care.

Recognized Expert
Fontaine has developed expertise in treating esophageal cancer, lung cancer and mesothelioma. His Thoracic Surgery Handbook has served as a guide to understanding the procedures and protocols used in thoracic surgery treatment at Moffitt Cancer Center.
What Is Minimally Invasive Thoracic Surgery?
Minimally invasive thoracic surgery uses specialized techniques and tools, such as the da Vinci robotic system, to reduce pain, recovery time and risk of complications for thoracic surgery patients.
Minimally invasive thoracic surgery is used on patients with different types of thoracic diseases to diagnose and treat conditions such as lung cancer, mesothelioma and esophageal cancer. Fontaine's expertise in minimally invasive thoracic procedures helps his patients experience less pain and recover quicker with fewer complications.
Importance of a Thoracic Cancer Specialist
Patients with thoracic cancers benefit immensely when they seek the opinion of a doctor who specializes in their specific cancer diagnosis. Patients get access to innovative treatments, clinical trials and an unparalleled experience.
Fontaine specializes in the treatment of thoracic diseases that include lung cancer, mesothelioma and esophageal cancer.
He is an expert in thoracic procedures for these cancers, including:
Wedge resection or segmentectomy
Lobectomy
Pneumonectomy
PleurX catheter placement
Esophagectomy
Endoscopic mucosal resection
Robotic Surgery for Thoracic Cancer Treatment
Fontaine is considered an expert in robotic surgery at Moffitt Cancer Center. He uses the highly regarded da Vinci surgical system to perform minimally invasive thoracic cancer surgery and diagnostic procedures.
The da Vinci surgical system uses small robotic instruments controlled by skilled surgeons to operate with greater precision. The system also uses a camera to produce a 3D, high-definition view of the surgical area, which allows Fontaine and other surgeons at Moffitt a better, up-close view to improve accuracy and outcomes of surgery.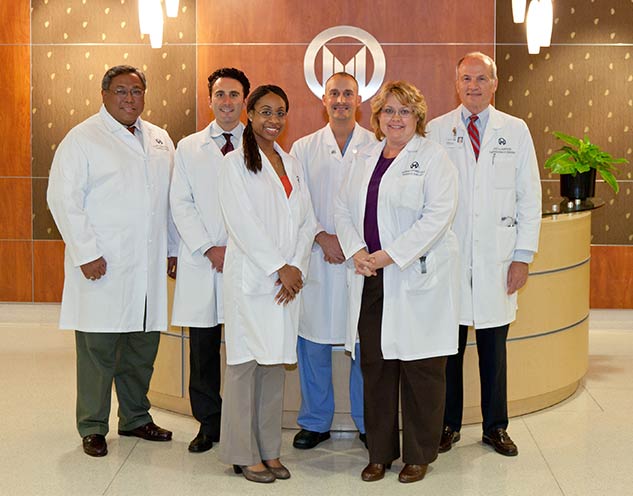 Clinical Research in Thoracic Cancers
Fontaine and the experts at Moffitt Cancer Center have a strong belief in clinical research, immunotherapy and therapeutic vaccines that improve cancer treatment. The vision is to provide the finest care in the world and work toward a cure through translational research.
Fontaine is a strong advocate of the clinical trials performed through Moffitt's Experimental Therapeutics Program and he often encourages patients to participate.
Many times traditional treatments for lung cancer or mesothelioma are not adequate. Seeking consultation at a specialized cancer center is of utmost importance because patients benefit from innovative, cutting-edge treatment options that are not available anywhere else.
Fontaine has recently been involved in the following clinical research:
Rishi, A. et al. (2020, December). Pretreatment CT and 18 F-FDG PET-based radiomic model predicting pathological complete response and loco-regional control following neoadjuvant chemoradiation in oesophageal cancer. Journal of Medical Imaging and Radiation Oncology.
Pointer, D.T. et al. (2020, November). Outcomes of 350 Robotic-assisted Esophagectomies at a High-volume Cancer Center: A Contemporary Propensity-score Matched Analysis. Annals of Surgery.
Saeed, S.M. et al. (2020, September). Impact of histology classification on pathologic treatment response and overall survival in distal esophageal cancer patients: a propensity matched analysis. Disease of the Esophagus.
Research Presentations
Fontaine has presented his research at conferences across the country and abroad, including:
International College of Surgeons in Chicago
40th International College of Surgeons World Congress in Kyoto, Japan
16th International Association for the Study of Lung Cancer WCLC Conference in Denver
Society of Surgical Oncology 68th Annual Cancer Symposium in Houston
22nd European Conference on General Thoracic Surgery in Copenhagen, Denmark
Peer-Reviewed Publications
Fontaine has also been featured in many medical journals, books and peer-reviewed publications, including:
The ASCO Post
Moffitt Thoracic Surgery Handbook
Adult Chest Surgery
European Journal of Cardio-Thoracic Surgery
Lung Cancer
World Journal of Gastroenterology
Journal of Surgical Oncology
Fontaine's education, training, extensive experience and dedication to research help him stay on the frontline of innovative therapies and make him an excellent surgeon for anyone facing a thoracic cancer diagnosis.
In addition to his expertise, Fontaine is known for his kind bedside manner and thorough communication with patients. His experience and commitment to his patients makes him a top choice for anyone facing a diagnosis of lung cancer, mesothelioma or esophageal cancer.