About Dr. Fontaine

Dr. Jacques Fontaine is board certified by the American Board of Surgery and the American Board of Thoracic Surgery. He currently practices Thoracic and GI Oncology at H. Lee Moffitt Cancer Center in Tampa, Florida.
Make an Appointment
Call Now
Dr. Jacques Fontaine is one of Tampa, Florida's most respected young thoracic surgeons, combining the most technically advanced, big-city, Ivy League training with the resourcefulness he learned while working in a remote, rural region of Canada, many years ago.
That unique mix led to Fontaine becoming one of today's world leaders in cutting-edge therapy.
Fontaine has built an excellent reputation among his peers and patients in Florida as Professor of Surgery at the University of South Florida College of Medicine and Senior Member at the H. Lee Moffitt Cancer Center — the third-largest free-standing cancer center in the country.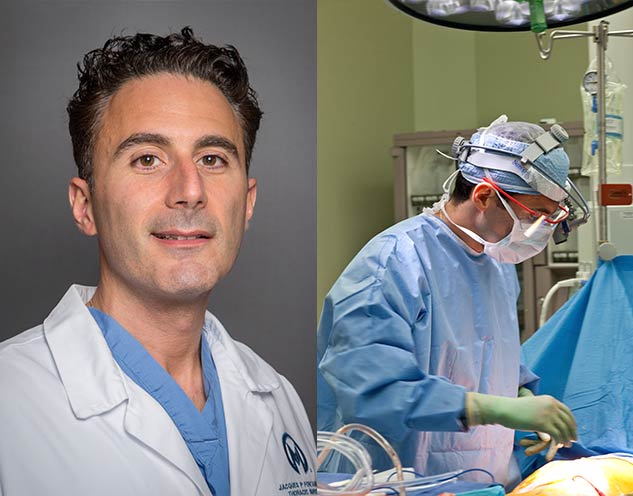 Joining the cancer center in 2011, he has provided an already well-established team of pulmonologists, oncologists and researchers with an innovative approach to medicine, including an expertise in minimally invasive techniques, such as robotic surgery, laser bronchoscopy and endobronchial ultrasound.
He has developed a focus and expertise in treating esophageal cancer, lung cancer and mesothelioma. His Thoracic Surgery Handbook has served as a guide to understanding the procedures and protocols used on the thoracic surgery service at Moffitt Cancer Center in Tampa, Florida.
World-Class Education & Training
Fontaine attended Canada's premier medical school at McGill University in Montreal. He then trained in general surgery at Boston University and completed his fellowship at Harvard University. He graduated as chief resident of thoracic surgery at Brigham and Women's Hospital in Boston, working under renowned surgeon David Sugarbaker.
Well-Rounded Experience
After graduating from Harvard, Fontaine returned to Canada and spent a year serving as an all-purpose surgeon in the small and isolated fishing town of Burin, Newfoundland, working in a hospital with very limited resources. He handled both major and very simple surgeries, and everything in between, learning to adapt and improvise at every turn. "I was the only surgeon in a 300-mile radius. There was no backup to consult if you had a problem," Fontaine said. "You had to stand on your own two feet — whether you were ready or not. I grew up quickly there as a doctor." His versatility and the challenges he accepted there fit well with his world view. He was born in Canada to Lebanese parents and raised in several different countries. He is fluent in English, French, Spanish and Arabic, which allows him to communicate with most anyone in today's multicultural patient base. "When a patient is diagnosed with cancer, he's usually in a fragile, emotional state," Fontaine said. "It's nice if you're able to make him feel comfortable, if you can speak his language. For me, it's natural." Before coming to Moffitt, Fontaine previously worked at the Brown University Medical School in Providence, Rhode Island, where he developed a thoracic surgery program at one of the teaching hospitals.
Moffitt Offers Multidisciplinary Care
At Moffitt, Fontaine offers patients the latest, most updated multidisciplinary approach to treatment, giving Floridians every reason to stay close to home. Treatment for complex cancers often requires a combination of radiation, chemotherapy and surgery. At Moffitt, various world experts come together under one roof to offer the best personalized treatment for cancer patients. "Collaboration is the key to treatment of lung cancer, esophageal cancer or mesothelioma," he said. "We take a team approach here. Sometimes surgery is not enough. Sometimes the combination of chemotherapy, radiation or surgery is the key for the best chance of a cure. You need all three under one roof. And that's what we do here."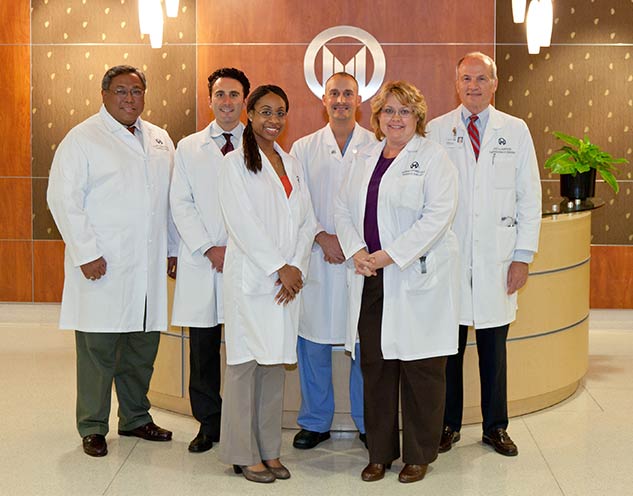 Fontaine was named Director of the Mesothelioma Research and Treatment Center two years after arriving at Moffitt. The position allows him to further advance the program under his leadership. Dr. Fontaine is also the Program Director for the Robotic Surgery fellowship program offering 12 months of specialized training to recent thoracic surgery graduates.
Moffitt Offers Better Chances for a Cure
Moffitt is the only comprehensive cancer center designated by the National Cancer Institute in the state of Florida. This focus on cancer has helped Moffitt provide state-of-the-art, leading-edge treatment and access to the world's most innovative clinical trials, and statistics prove that its patients' survival rates are significantly higher than the national average.
A Belief in Clinical Research
Moffitt also demonstrates a strong emphasis on clinical research, immunotherapy and therapeutic vaccines that better target the cancer. The vision is to provide the finest care in the world and work toward a cure through translational research.
He is a strong advocate of the cutting-edge clinical trials performed at Moffitt's Experimental Therapeutics Program and often encourages patients to participate.
Many times, traditional treatments for lung cancer or mesothelioma are not adequate. For those patients, seeking consultation at a specialized cancer center is of utmost importance, as they may benefit from innovative, cutting-edge treatment options that are not available anywhere else.
Learn What to Bring in Your Consultation
Fontaine is board certified by the American Board of Surgery and the American Board of Thoracic Surgery. He is also a Fellow of the Royal College of Surgeons of Canada and the American College of Surgeons.
Featured In
Media and Other Websites
Fontaine has provided his expert medical opinion in special guest interviews at several prominent Tampa Bay area radio programs, television news stations, magazines and newspapers, including: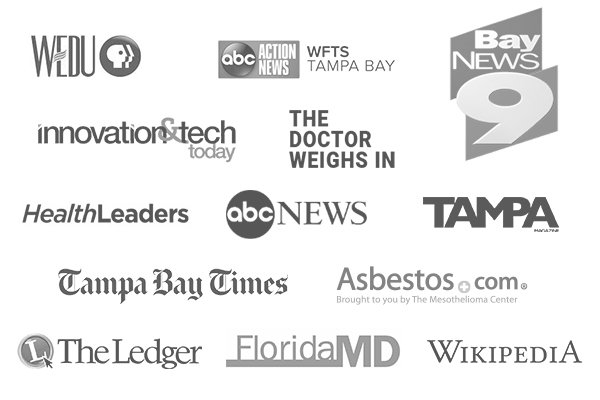 Top-Rated Doctor
Dr. Jacques Fontaine is among the top-rated thoracic specialists in the Tampa Bay area. He has appeared in several recognized publications that annually rank the region's best doctors.

Research Presentations
He also has presented his research at conferences across the country and abroad, including:
International College of Surgeons in Chicago
40th International College of Surgeons World Congress in Kyoto, Japan
16th International Association for the Study of Lung Cancer WCLC Conference in Denver
68th Annual Society of Surgical Oncology Cancer Symposium in Houston
22nd European Conference on General Thoracic Surgery in Copenhagen, Denmark
Peer-Reviewed Publications and Others
Fontaine has also been featured in many medical journals, books and peer-reviewed publications, including:
The ASCO Post
The Moffitt Thoracic Surgery Handbook
Adult Chest Surgery
European Journal of Cardio-Thoracic Surgery
Lung Cancer
World Journal of Gastroenterology
Journal of Surgical Oncology