About Dr. Fontaine

Dr. Jacques Fontaine is board certified by the American Board of Surgery and the American Board of Thoracic Surgery. He currently practices Thoracic and GI Oncology at H. Lee Moffitt Cancer Center in Tampa, Florida. He was rated the top thoracic disease doctor in the Tampa Bay Area in 2021, 2019 and 2018 by Tampa Magazine.
Make an Appointment
Call Now
Dr. Jacques Fontaine and his colleagues at Moffitt Cancer Center are experts in robotic surgery and computer-guided radiation therapy techniques for lung cancer. Fontaine also promotes clinical trials aimed at discovering improved chemotherapy and immunotherapy treatments.
Every lung cancer treatment plan must be tailored to a patient's individual circumstances. Oncologists have to carefully assess the type, stage and location of the tumor as well as the patient's overall health in order to determine which treatment options are the most appropriate.
Lung Cancer Surgery
Stage I lung cancer only requires surgery. Chemotherapy and radiation are not necessary. Stage II and stage III lung cancers are best treated with a combination of surgery, chemotherapy and sometimes radiation therapy. Surgery is almost never helpful in treating metastatic (stage IV) lung cancer.
The most common surgeries are:
Wedge resection or segmentectomy, where part of a lobe is removed.
Lobectomy, where an entire lobe is removed.
Pneumonectomy, in which the entire lung is removed.
The extent of lung to be removed is determined by the size, location and specific type of the lung cancer and the overall health of the patient. Some of these procedures can be accomplished through robotic techniques.
Dr. Fontaine is the program director for Moffitt's Robotic Thoracic Fellowship Program based in Tampa, Florida. Surgeons at Moffitt perform more robotic lung surgeries than any other center in the U.S. This experience gives Tampa residents and those who travel to Moffitt the opportunity to have better results.
Minimally invasive or robotic surgery offers many advantages to cancer patients requiring surgery as part of their treatment. Through a few small cuts, with the aid of a magnifying 3D camera and precise instruments, surgeons can perform surgery with a faster recovery and less trauma, blood loss and pain.
This means patients can return to their hometown sooner, whether that's here in Tampa or in other surrounding communities, including Sarasota, Clearwater or Ft. Myers.
Chemotherapy
Chemotherapy is a treatment involving anti-cancer medication taken orally or intravenously. It can be used before surgery to help shrink a tumor, after surgery to decrease the chance of recurrence, or as the main treatment option for a patient who is not a candidate for surgery.
There are many different types of chemotherapy. Side effects, dosage and administration schedule may vary considerably. The side effects often depend on the type and dosage level of the drugs. Side effects usually are short term. Many of the newer oral cancer drugs have few, if any, side effects.
Common chemotherapy drugs for lung cancer include:
Platinol (cisplatin)
Paraplatin (carboplatin)
Taxotere (docetaxel)
Gemzar (gemcitabine)
Taxol (paclitaxel)
Navelbine (vinorelbine)
Alimta (pemetrexed)
Each tumor has a specific genetic fingerprint. Knowing the genetic code of the patient's tumor allows us to use more precise therapies. Targeted treatments include drugs that only attack cells with certain molecular biomarkers or gene mutations. This reduces collateral damage to healthy cells.
Targeted treatments used for lung cancer include:
Tarceva (erlotinib)
Gilotrif (afatinib)
Iressa (gefitinib)
Avastin (bevacizumab)
Xalkori (crizotinib)
Zykadia (ceritinib)
Dr. Fontaine and his team at Moffitt work hard to maintain relationships with oncologists around Florida, so patients can begin treatment in their hometown, travel to Moffitt for surgery and then return to their hometown for the rest of their treatment.
This makes it easier for patients from other Florida cities — including Sarasota, Miami, Ft. Myers and St. Petersburg — to get the very best cancer care.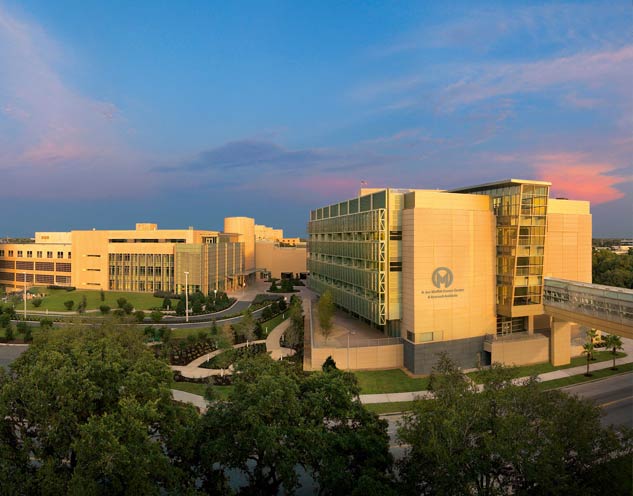 Radiation
Radiation treatment can be used before surgery, after surgery or as the main treatment for lung cancer if surgery is not an option. Radiation uses high-energy rays to kill cancer cells. It is often used in conjunction with chemotherapy.
Although there are different types, Intensity Modulated Radiation Therapy (IMRT) and Stereotactic Body Radiation (SBRT, also known as Cyberknife) are the ones most often performed in specialized centers today.
This technology uses a computer-aided machine that aims multiple beams from various angles at the tumors. Its precision virtually eliminates the problem of damaging nearby healthy tissue.
It is important to seek treatment from a radiation oncologist well experienced with this technology. Successful treatment depends as much on the quality of the radiation oncologist as on the quality of the machine.
The radiation oncologists at Moffitt's Tampa campus are pioneers in this technology, and they treat more lung cancer patients every year than any other center in the Southeast.
Immunotherapy
Immunotherapy is a newer type of cancer treatment that boosts the body's natural ability to kill cancer cells. Immunotherapy drugs may be used alongside chemotherapy or instead of it. Immunotherapy generally has mild side effects, so it can be combined with many other types of treatments.
The immunotherapy drugs already approved for lung cancer treatment are called checkpoint inhibitors. This type of drug disables a protein that cancer cells use to hide from immune system cells.
Checkpoint inhibitors approved for lung cancer include Opdivo (nivolumab) and Keytruda (pembrolizumab). Doctors are studying why these drugs work very well for a small fraction of patients but have little benefit for most patients.
Other types of immunotherapy in development include cancer vaccines and methods to cultivate or genetically engineer immune cells that better target tumors. Moffitt participates in dozens of clinical trials in order to test every avenue of research than could lead to better treatments for lung cancer.